Disclosure: This page may contain affiliate links and we may receive a commission through them, but this is at no additional cost to you. For more information, please read our privacy policy.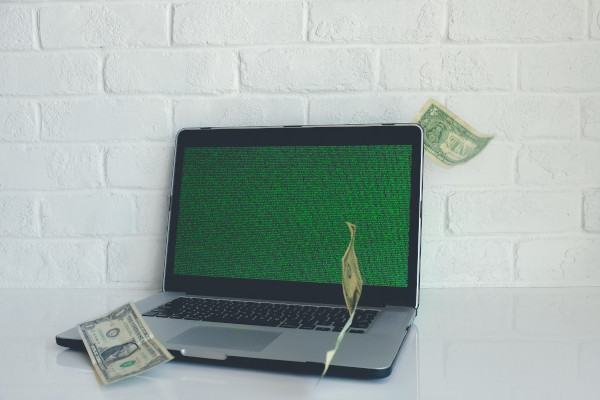 I have always liked earning money from apps in my spare time. If I am going to be watching Hulu or Disney+ why not be earning some cash while I relax?
There are always apps coming and going, but Cash for Apps is one that has been around for a while now.
Cash for Apps claims to be the fastest way to get free gift cards and in-App purchases. In this Cash for Apps review, we'll see if that's the case.
If you just want to get the app without reading the rest of the review, here's the link.
What is Cash for Apps?
Cash for Apps is a smartphone app that pays you to download and use new apps on your phone.
This is a pretty standard operation for apps in this category. If you have other apps that pay you to download apps, you won't get credited for installing the same app through different apps.
How Does Cash for Apps Make Money?
Cash for Apps gets paid by iOS and Android app owners to increase the number of installs their apps get. Their hope is that you will like the app and keep it on your phone.
Those companies pay Cash for Apps and then you get a portion of the proceeds for downloading the app.
How Does Cash for Apps Work?
This is a pretty easy one. In just a few steps you can be on your way:
Download and install Cash for Apps
Open the app and download the featured apps
Each app download will have specific requirements
Profit
As soon as you are rewarded for downloading and finishing the required tasks you are more than welcome to uninstall the app you were rewarded for installing.
Your points can take up to 24 hours to be awarded. Make sure to use those points to redeem for gift cards.
Who Can Use Cash for Apps?
Cash for Apps is available to iOS and Android users.
I couldn't dig up a minimum age anywhere, so I will have to guess and say it is 18 and older. If you find out something to the contrary please let me know.
Pros of Cash for Apps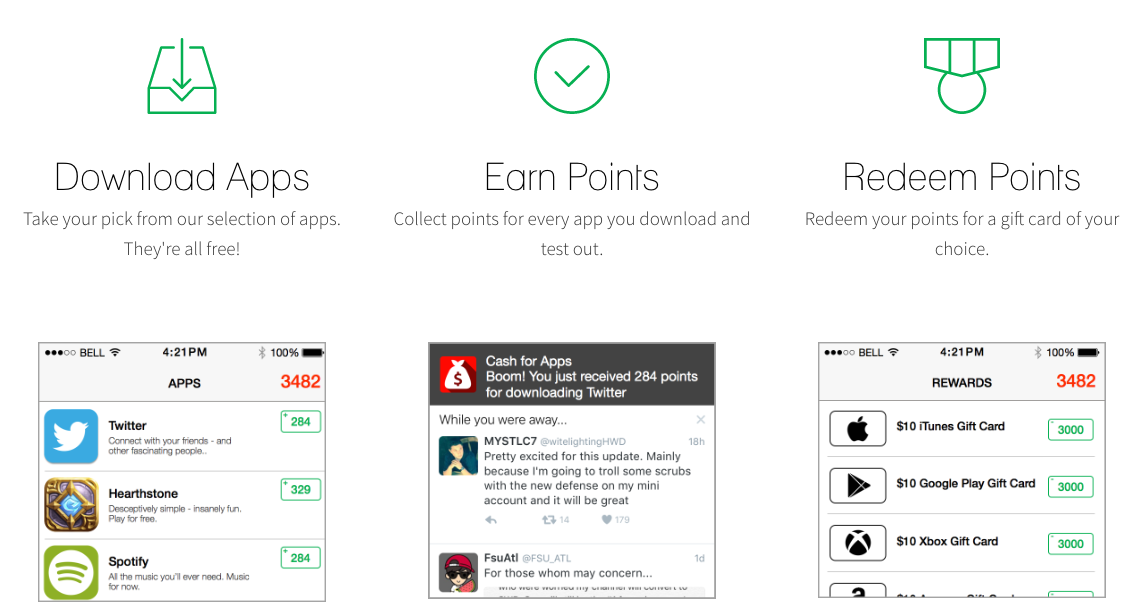 Available in every country
There are many gift cards that you can redeem your points for
There is a referral program
Earning is not limited to just downloading apps
Cons of Cash for Apps
No PayPal or Cash cashouts
Surveys have lower payouts than other survey sites
Earning potential is limited
How To Make Money Using Cash for Apps?
As mentioned above, this app is fairly simple.
Make sure to download the featured apps, and complete the necessary tasks. Whether it is to level your account to a certain level or to fill out a few surveys.
Here are multiple ways you can earn with Cash for Apps:
Earn Points By Using Your Lock Screen
This option is Android only, but Cash for Apps has a sister app called Lock Screen Points.
You can install a lock screen on your phone, and get paid to view ads whenever you unlock your device. The points get added to your Cash for Apps balance.
Complete Tasks
As soon as you have downloaded and used four apps you unlock tasks.
Occasionally, Cash for Apps adds bonus tasks to the app.
These offers could be surveys, advertising videos, sign up for a free trial or paid offer from an advertiser.
Complete the offer, you will be getting extra points.
The con of the bonus offers is that they are random and few and far between. You can't find them by logging in and looking for them, you just have to wait for them.
Take Surveys
Cash for Apps also offers surveys as part of the unlocked tasks.
If you have used other online survey sites, I am sure you are familiar with those providers and their surveys.
You will go through multiple questions to qualify you for the survey. You will be asked about your interests and demographics. Once you qualify, you will be asked your opinion on a plethora of things. The market research companies then use your responses to let brands know what consumers want.
In exchange for your time, Cash for Apps will give some points.
A drawback of Cash for Apps is that they only have a few surveys available at a time, and they are usually hard to qualify for.
Something also to look out for is that compared to other survey sites Cash for Apps has a low payout on surveys.
Referrals
Like other apps, this is where the money is at. It is always worthwhile to have an audience you can give good recommendations to.
Each iOS referral is worth 90 points. Each Android referral is worth 45 points. If you do the math, just one Instagram post could make you a couple of bucks.
When And How Does Cash for Apps App Pay You?
Cash for Apps operates on a reward system where users can earn points that can be exchanged for gift cards from popular retailers like Amazon, Target, Walmart, and more. To redeem your rewards, you'll need to accumulate 3000 points, which can be exchanged for a $10 gift card of your preference.
Redeem Your Points
You can redeem your points for one of many gift cards.
Here's a list of my favorite gift card reward options (ranked from high to low):
Amazon
Target
Walmart
Google Play
The minimum redemption value is 3000 points, and that will get you a $10 gift card.
They usually arrive within 48 hours, so if you haven't received your gift card after that make sure to check your spam folder.
How Much Can I Make With Cash for Apps?
Everyone's experience is different depending on the number of referrals, how many surveys they qualify for, time spent watching videos, and your location.
Most apps that you download will get you between 50 to 300 points.
Let's do some math. If your average is 100 points per app, and you are in the app for five minutes each you could make 1200 points in an hour.
That is right around $3 per hour. I imagine that isn't very sustainable, as there is a finite amount of apps available to download.
What People Say About Cash for Apps
Everyone has their own experience with Cash for Apps, but there are some common threads that seem to pop up by those that have discussed or reviewed the app online.
Downloadable Apps Run Out
As you get over 1000 points the available apps for download seem to dwindle. Which is a bummer because that makes it pretty hard to get to 3000 points.
Frequent Bugs
The most common reviews on the Google Play Store show that the app currently is fairly bug-prone. As those reports clear up, we'll update this review.
Easy, But Low Earnings
As you may have surmised during reading this Cash for Apps review, the app doesn't pay very much.
How to Get Started with Cash for Apps?
Grab your iOS or Android device, and download the app from either the Google Play Store or the App Store.
Once you start the app, it walks you through the signup process and how to earn.
Is Cash for Apps a Scam?
No! Cash for Apps is not a scam.
However, I feel like they could put more effort in on their end and they could become an amazing app.
With the same amount of time put into Cash for Apps, you could earn a lot more using different systems to earn cash in your spare time. These include investing in real estate, starting a blog, creating crafts to sell, and a lot more that can be found on our best side hustles list.
Popular Articles