Disclosure: This page may contain affiliate links and we may receive a commission through them, but this is at no additional cost to you. For more information, please read our privacy policy.
We've all been there before. At the checkout counter at the gas station, and the dude in front of you buys a bunch of lottery tickets.
That's right. Lottery Tickets
For the mathematicians out there facepalming, you need to calm down.
Even though the odds are low, the rush of lottery tickets can't be beaten.
Lucktastic is here to solve that problem!
What is Lucktastic?
To begin this Lucktastic review, we should use their own words. They describe themselves as a fun and free application where users can play and win real rewards, including cash prizes, with the use of their mobile phones.
Pretty sweet if you ask me!
It was developed by Jump Ramp Games in 2014. The app is free to download and if you win, you can get tokens that can be redeemed for cash prizes, gift cards, or even entry to larger contests!
The app is currently mobile-only, so you will need to download it to play. The only requirements to play are:
Be a US Citizen
Spend 30 seconds per scratch card
iOS or Android device
As of today, the Lucktastic app has over 20 million downloads and claims to have over 1 million winners that have collectively won over $3 Million!
The main method of winning on Lucktastic is scratching scratch cards.
Scratch Cards
Every single scratch card is free to play and you have dozens to choose from to try your luck with.
These are standard scratch cards. Each one will have six boxes that you get to scratch. You have to match three symbols to win.
If you don't win the card, don't forget to scratch the bonus play scratch box for the chance to win a win token.
Make sure to claim your reward after you have scratched all seven boxes.
Each scratch card is slightly different. Each card can have a different range of winnings available between $2 and $1500.
There are also scratch cards that give you bonus tokens that give you entries to contests. Some even can qualify you for gift cards!
If you reach the pre-set number of scratch cards played in a 24 hour period, you are then eligible to win the $10,000 prize.
What About Bonus Cards?
You can play the Lucktastic app all day, but there are two special times when you can also play bonus cards.
12 PM - 4 PM CST
8 PM - 12 AM CST
The trick is that the bonus card arrives randomly during that timeframe, so you need to be prepared.
Good news! If you are busy, which I know you are you can turn on your push notifications and you will be alerted when the bonus cards are available.
Social Media
Luckily, (pun intended) scratch cards are not your only way to earn tokens or rewards.
Like other apps with offer walls, you can download additional apps and be rewarded with even more reward points.
However, referrals are where it is at! Referrals are definitely the fastest way to earn more tokens. If you share the Lucktastic app, and someone uses your link you get 1,000 tokens.
At a minimum you will need 10,000 tokens to be able to get some decent prizes like Amazon, restaurant, or shopping gift cards, referrals are going to be your best bang for your buck.
Pros of Lucktastic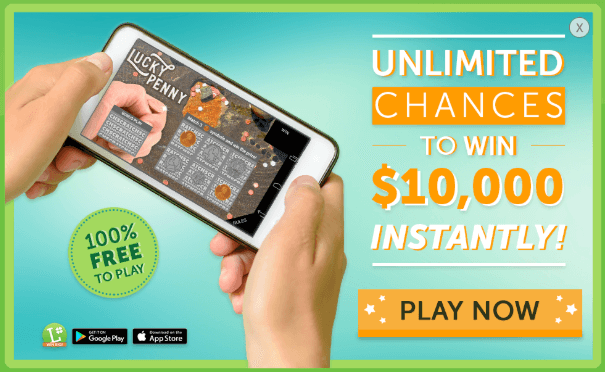 Lucktastic has a lot of advantages, especially if you are able to dedicate free time every day to playing and mainly scratching.
Free to Play
I would have to say the best advantage that Lucktastic has going for it is that it is free. You are not risking any money by playing, only your time.
If you play it smart, over time you will be able to amass a large number of gift cards, entries into contests for even more money, and even cash prizes.
The only thing you will have paid with is your time.
Great BBB Rating
Most companies that operate in this space have a bad rating with the Better Business Bureau (BBB).
Jump Ramp is able to boast an A rating. In my opinion, the BBB is pay to win however, it still shows that Jump Ramp cares about their customers.
Cons of Lucktastic
Just like anything you do in life there are downsides of playing the Lucktastic app.
Which include:
High Minimum Cashout
As mentioned previously, you need 10k tokens to be able to cash out. If you are not cashing in on that sweet sweet referral bonus you have a lot of scratch cards in your future.
If you do the math on your odds on every scratch card, you will quickly notice that your dollars per hour will be very low.
Play More Win More
You probably already guessed it. This is a game of repetition. You are going to be playing a lot to be able to win.
If you want any chance of getting those lofty prizes, you will be playing a lot of Lucktastic.
30-Second Advertisement
Before every single scratch card, you are going to be watching an ad for 30 seconds.
That isn't much to ask, because then you get to play for free. I would probably be playing while watching Netflix or Hulu.
The other downside to a 30-second ad is that your scratch cards per hour is limited.
Is Lucktastic a Scam?
No! Lucktastic is not a scam.
Lucktastic is exactly what they purport to be. You scratch cards, watch ads and get to do it for free.
If you are super unlucky, you will still be out zero dollars at the end of your time playing Lucktastic.
Which means that you are trading your time for money, just at a worse rate than your job.
Time is an important level that you can pull for making money.
You have to commit to playing daily, and don't forget that you have a 30-second ad every time you scratch a scratch card.
With the same amount of time put into Lucktastic, you could earn a lot more using different systems to earn cash in your spare time. These include investing in real estate, starting a blog, creating crafts to sell, and a lot more that can be found on our best side hustles list.
Popular Articles