Disclosure: This page may contain affiliate links and we may receive a commission through them, but this is at no additional cost to you. For more information, please read our privacy policy.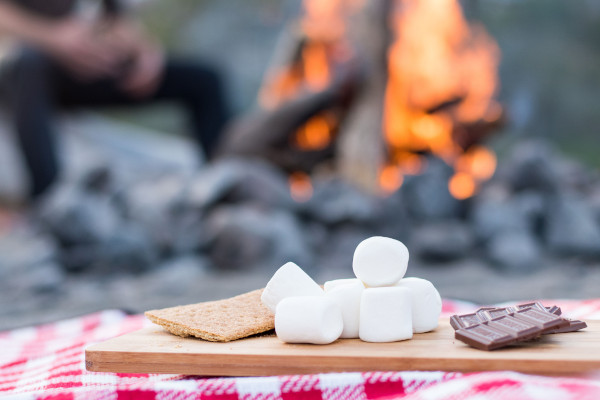 I have always liked earning money from apps in my spare time. If I am going to be streaming content why not be earning some cash while I relax?
There are always apps coming and going, but S'more is one that has been around for a while now.
The cool thing about S'more is that you get paid to do something pretty chill. Unlock your phone!
If you just want to get the app without reading the rest of the review, here's the link.
What is S'more?
S'more is an Android app that allows advertisers to do their job, get in front of your eyeballs. You get paid to see the advertisement, it is a win-win.
The setup is pretty easy. You download the app, and S'more slides on top of your normal lock screen and provides you with interesting ads.
The nice thing is that you don't have to actually interact with the ad, you can just unlock your phone and go on your way.
There is a plethora of lock screen apps available, S'more is able to set themselves apart by being a platform of sorts. You are able to make money in multiple ways, surveys and offers, referrals, etc.
How Does S'more Make Money?
S'more is a reward site that has been squashed down into an app. They partner with advertisers that want to market to you, the difference is that S'more chooses to display those advertisements on your lock screen.
As you know, other rewards sites will send you paid email to read, and have offer walls for you to get paid. S'more allows you to make money right at your fingertips. You get ads on your lock screen, as well as surveys, offers, and even more within the app.
S'more gets paid from the advertisers, and then you as a member of S'more will get a portion of that sweet sweet cash passed on to you.
How Does S'more Work?
As soon as you download the S'more app, your phone will get a fancy new lock screen.
You'll see a simple lock screen that displays advertisements that you are able to click on to learn more about the product, brand, or service.
You can then either click the ad or swipe up to unlock your phone. The cool thing is that you get 10 cents a day just for having the app installed. You don't actually earn more for interacting with the ads.
You may also see ads while using your phone, so make sure to just swipe up on those as well to keep using your phone as normal.
Who Can Use S'more?
S'more is available to the section of the market that uses Android devices. Could you imagine Apple ever allowing a lock screen app?
You also need to be at least 13 years old (with your parent's consent if you are under 18) to use the app.
Because of advertisers you will also need to be a resident of the United States.
Pros of S'more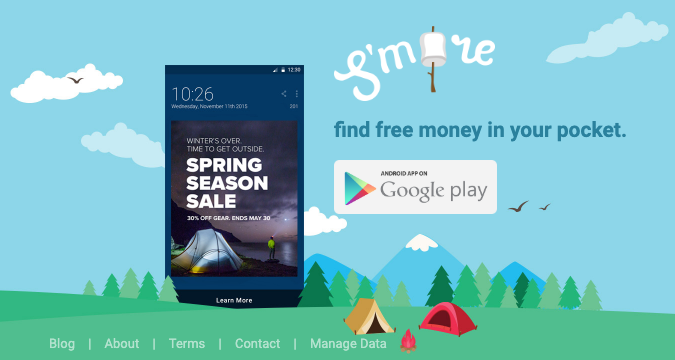 Every day you use your phone you automatically use the S'more app
Low minimum cash out (500 points) for lots of prizes
Earn 50 points for installing S'more
There are many gift cards that you can redeem your points for
There is a referral program
Earning is not limited to just the lock screen
Ads are not going to slow down your device
Cons of S'more
Android only
Availability limited to the United States
Low availability of videos
Surveys have lower payouts than other survey sites
If you are inactive your points expire in 30 days, in one year if you are active
First cash out is limited to 10 days after sign up
How To Make Money Using S'more?
S'more isn't only a lock screen app. I would say it is more like a hybrid rewards app.
Imagine Swagbucks or InboxDollars had a baby with a lock screen app. That's the S'more app.
Here are multiple ways you can earn with S'more:
Earn Points By Using Your Lock Screen
As you may have guessed, the most advertised way of making money with S'more is to use your lock screen.
The lock is actually not the most effective way to make money with S'more.
Every day that you use your device, and have the S'more lock screen active you will get 10 points (10 cents).
You don't have to click the ads, just use your phone like normal and boom! You are $0.10 richer.
Complete Offers
Occasionally, S'more adds bonus offers to the app and they look like the other ads.
These bonus offers can be literally anything. Download an app, sign up for a free trial or paid offer from an advertiser.
Complete the offer, you will be getting extra points.
The con of the bonus offers is that they are random and few and far between. You can't find them by logging in and looking for them, you just have to wait for them.
The pro is that they pay pretty well! If it makes sense for you, definitely do these bonus offers. If you download the apps that are suggested you'll earn points, and maybe find your new favorite app.
Take Surveys
After getting past the lock screen you can open the S'more app and take surveys. S'more it currently partnered with Peanut Labs and Pollfish.
If you have used other online survey sites, I am sure you are familiar with those providers and their surveys.
You will go through multiple questions to qualify you for the survey. You will be asked about your interests and demographics. Once you qualify, you will be asked your opinion on a plethora of things. The market research companies then use your responses to let brands know what consumers want.
In exchange for your time, S'more will give some points.
A drawback of S'more is that they only have a few surveys available at a time, and they are usually hard to qualify for.
Something also to look out for is that compared to other survey sites S'more has a low payout on surveys 5-100 points.
Watch Videos
Every video that you watch in the S'more app will give you half a point. The videos are additional ads provided by S'more partners.
There is a progress bar at the top of the app to let you know your progress towards earning your next full point.
The majority of videos are 30 seconds long. Which would make your earnings on videos $0.01 per minute.
After you watch a video, you will be asked to x out at the top of the screen to confirm that you actually watched the video.
To signify there are more videos available the button within the Video section will be green and display the text Watch Videos.
Referrals
Like other apps, this is where the money is at. It is always worthwhile to have an audience you can give good recommendations to.
Each referral is worth $0.25 (25 points). If you do the math, just one Facebook post could make you a couple bucks.
To find your referral code, make sure to check out the Refer section and then click the share button.
One caveat of the referral program is that your referrals will need to stay around for 10 days as well as redeem one prize.
Redeem Your Points
You can redeem your points for one of many gift cards. You need to navigate to the Redeem section of the app, and enter your email address and verify it.
Now you will have access to the entire catalog of prizes.
Here's a list of my favorite gift card reward options (ranked from high to low):
Amazon
Target
CVS
GameStop
Google Play
The majority of the gift cards have a minimum redemption value of $5. The exceptions are Google Play at $10, and Amazon at $1.
The reason you provided your email earlier is that your gift card is sent through email.
They usually arrive within 48 hours, so if you haven't received your gift card after that make sure to check your spam folder.
How Much Can I Make With S'more?
The age old question, how much will I make?
Everyone's experience is different depending on the amount of referrals, how many surveys they qualify for, time spent watching videos, and your location. Some locations are absolutely dry for ads, and others are amazing.
I'll share what my experience with S'more was like after two days, to give you an insight into what you could make:
Downloaded the app 50 points ($0.50)
Using the lock screen 10 points ($0.10) X 2 days = 20 points ($0.20)
Email verification 10 points ($0.10)
Four surveys 100 points ($1.00)
Eight videos per day 4 points ($0.04) X 2 days = 8 points ($0.08)
Six referrals (As long as they cash out a reward) 150 points ($1.50)
After only two days, I earned $3.38. That is a daily earnings of $1.69. If you extrapolate that out to a month that would be $52.39.
Those are crazy numbers, because I would have to refer 180 people in a month to get numbers like that.
I feel like most members of S'more end up earning $3-$8 a month. If all you did was the daily lock screen you would still end up with $3 a month.
Use S'more and Other Lock Screen apps
S'more is compatible with every lock screen app that I have tested so far. Which is great because you potentially have three or four lock screen apps making you money every single month.
I did notice while testing older phones that there was a bit of a lag after I had installed more than two lock screens on the same phone. I would recommend probably rolling with one or two at a time.
S'more is pretty similar to other popular lock screen apps, so here is a comparison of a few other popular apps:
Slidejoy
Slidejoy leads the market in name recognition. The main difference between Slidejoy and other apps in this niche is that you can swipe ads away, engage with them, or get more ads by swiping up.
Like S'more you don't get paid for interacting with ads, but you get paid by Slidejoy to use their app and to view the lock screen.
The minimum cash out is $1 and you can get PayPal, Square cash, or Google Play credit. The average monthly earnings is right around $10.
Adme
The main difference between S'more and Adme is that Adme pays you per phone unlock.
Now before you get your twitchy fingers ready, Adme has an "algorithm" that protects against system abuse.
The minimum cashout is $10 and you can cash out to PayPal.
Fronto
The main difference between Fronto and S'more is that Fronto pays you to interact with the ads.
Each app download, ad click, or news story read you earn more points than just unlocking your device. A normal unlock gives you 20 points, and if you interact with an advertisement you could get 100 points or more.
The minimum cashout is $10 (25,000 points) and you can get PayPal or Amazon.
Whaff Locker
The main difference between Whaff Locker and S'more is that Whaff Locker won't pay you to just unlock your phone.
They focus on ad interactions instead of eyeballs on ads. They only add to your points if you swipe left and engage with their articles, videos, or advertisements.
They also offer referrals and offer walls to earn more points.
The minimum cashout is $10.50 and you can get PayPal or an assortment of gift cards.
What People Say About S'more
Everyone has their own experience with S'more, but there are some common threads that seem to pop up by those that have discussed or reviewed the app online.
Drains Battery
I mean I get it. Anything extra that you make your phone do out of the ordinary is going to drain the battery.
Any lock screen app is going to also drain your battery more than normal. The app is technically always running on your device to be ready to throw up the lock screen when you want to use your phone.
Points Expire
As mentioned above the points that you earn from the S'more app do expire. I imagine that is a huge drawback for first time users.
The good news is, if you are active on the app your points expiring should never be a problem.
As long as you unlock your phone with S'more installed once every 30 days your current points will still be there. Then you just need to make sure that you redeem your points for a reward within a year of earning them.
If you are active in the app that shouldn't be a problem at all.
Easy, But Low Earnings
As you may have surmised during reading this S'more review, the app doesn't pay very much.
That's the case with apps and sites like these, you just make a little bit of money every day. You can still get $0.10 a day by just unlocking your phone, and that can add up to $36 a year by doing next to nothing.
The payout from the lock screen is low, but you can also do surveys, offers, watch videos, and refer your friends and family. You could make bank through referrals alone.
How to Get Started with S'more?
Grab your Android device, and download the app from the Google Play Store.
Once you start the app, it walks you through the signup process and how to earn. Make sure to verify your email for more points.
Is S'more a Scam?
No! S'more is not a scam.
S'more is exactly what they purport to be. A lock screen app that pays you a little bit each day to view a few ads.
With the same amount of time put into S'more, you could earn a lot more using different systems to earn cash in your spare time. These include investing in real estate, starting a blog, creating crafts to sell, and a lot more that can be found on our best side hustles list.
Popular Articles