Disclosure: This page may contain affiliate links and we may receive a commission through them, but this is at no additional cost to you. For more information, please read our privacy policy.
Step by step guide on how to make money building websites from a professional who knows the industry.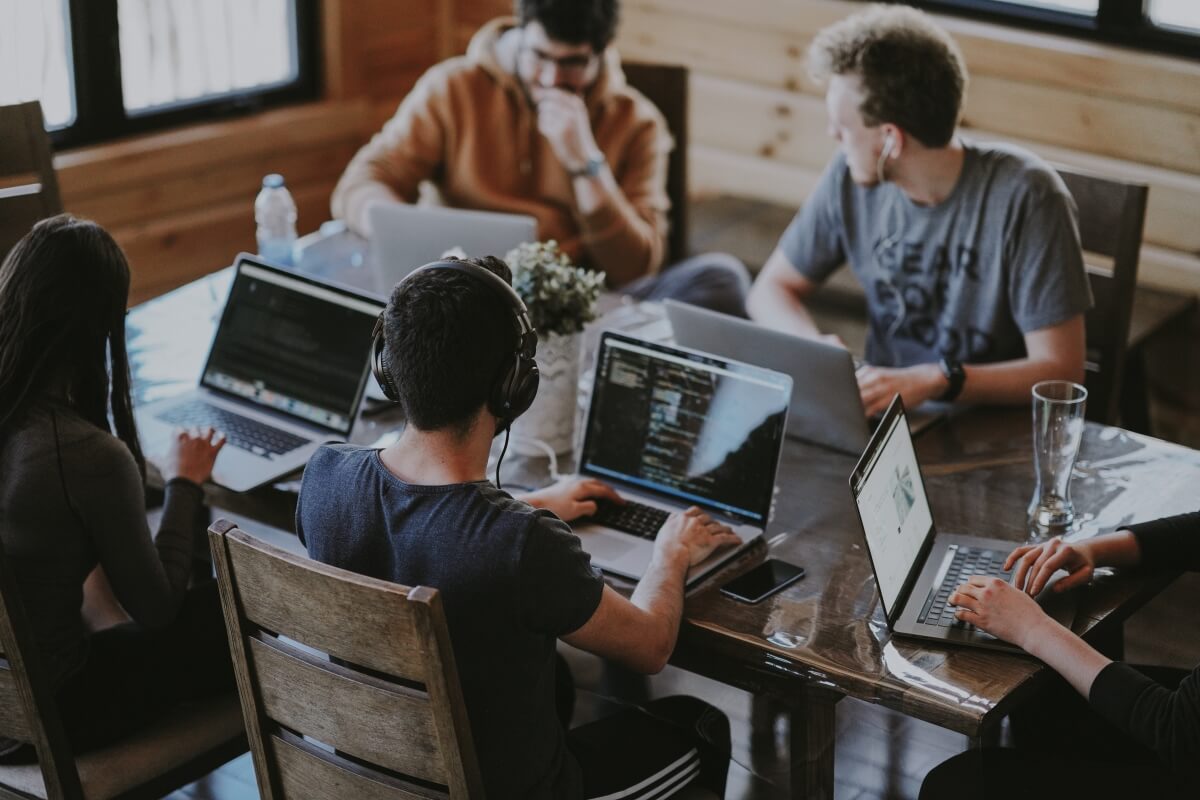 Every business and individual should want to operate a website to reach customers. Websites are without a doubt a necessity for business owners.
This means there is a huge opportunity for web designers to make a lot of money. If you are willing to put in the time and effort, you will be able to turn your passion for web design into cash.
Why Make Money Building Websites?
There are so many reasons you should be building websites for clients. If you are trying to add some money to your coffers or are looking to turn your love for web design into a business, this is a great side hustle and way to make money online.
Easy to start
It is so easy to start building websites. There are almost no overhead or upfront costs to get into this line of work. You basically just need internet and a computer.
Low cost
There are basically no costs involved here. If you already have a computer, which most people do, you are ready to get started.
Depending on the services that you are planning to offer, you may need to purchase software and tools to help you out. However, there is always a free alternative or a cheap subscription to be had. You can use those tools while you build up your business, and then switch over to the more expensive software and tools.
High earning potential
You will need to be proficient in a lot of different skills, but if you can serve your clients well and market yourself as the boss that you are your income potential is unlimited. You can even scale your business, bringing in other web designers and developers to work with you and to increase your profits and take your business to the moon!
Flexible schedule
This whole gig is online. You are remote, and you are the one setting deadlines with your clients. You could work at 8AM or 8PM and it really doesn't matter if you meet your self-imposed deadlines.
Crazy demand
Web design and development skills are in extremely high demand at this time. If you work hard and develop this talent, there are tons of clients out there for you.
How To Make Money Building Websites
There is no magic lesson that teaches you how to be successful making money building websites for others. However, These steps will be able to help you be profitable and know what you are getting yourself into.
Step 1: Learn How to Make a Websites
You are going to need to learn the basics of web design, HTML, and CSS. Most people are going to tell you to take some expensive course, that they get an affiliate cut from. I recommend CodeAcademy. You only need to take the free courses, and Google or YouTube the rest. Anything you want to learn to code is available for free. If you need any extra help, please free to reach out using the contact form on the site. If you can code, it unlocks infinite potentials, like using Headless Wordpress.
You also could use a WYSIWYG (What you see is what you get) site builder, and not even learn HTML or CSS to start building websites.
The top three website builders are:
WordPress
WordPress is a content management system (CMS) known for its blogging capabilities. 37% of the web uses WordPress, from hobby blogs to the biggest news sites online. Wordpress uses PHP and a MySQL database.
You don't need to worry about that though. WordPress operates using themes and plugins. Themes are design elements that are easily modifiable. The best part is that there are a ton of free and paid mobile-friendly themes available. A good source for finding a great theme is Themeforest.
WordPress plugins are features that can be added to your site, like integrated tools and eCommerce solutions. If you can imagine it, there is most likely a plugin for it.
You should familiarize yourself with a few plugins and how to install them so then you can add all the features necessary for your site.
You might want to look into adding a page builder plugin like Thrive Architect, Divi, or Elementor which change out the basic WordPress editor with an actually live frontend editor. This will allow you to create responsive yet complex layouts without having learned any code.
Wordpress is super powerful, but that means there are some cons to using it. In my opinion, the biggest downside of WordPress is that there is a fairly steep learning curve than the other website builders like Squarespace or Wix.
Of all the online website builders, WordPress is without a doubt the most popular.
Squarespace
Squarespace is a website builder that simplifies web design and site creation using drag-and-drop elements to build a website. Squarespace is trying to solve the all-in-one website builder solution. That means they have solutions for domains, eCommerce, analytics, hosting, and so much more.
Squarespace is a pretty good solution for someone that wants to create a professional looking website, but doesn't want to code it themselves. It currently has some of the best features on the market.
One of the downsides of Squarespace is that they do not have plugins or apps that are created by users to extend the functionality of your site.
Wix
Wix is an online website builder that has created an interface to allow users to drag-and-drop elements around a page to build a website with no code involved at all. Wix is very popular option for designing and publishing a blog, portfolio, online store or website for your small business. There are hundreds of templates and tools available over at Wix.
One of the downsides of Wix is that it lacks a few features desired by more advanced users. It is not as customizable as WordPress, but it is a lot easier to get started with.
I would recommend picking one platform that works best for your needs, and your client's needs. Take into considration your preference and experience. Look into migration options in each platform so you know you aren't stuck with them for forever if you want to change platforms down the road. I know how annoying that can be, so make sure to do your research before you settle on a platform.
Step 2: Pick a Niche
At the beginning of your business, specially if you don't really know how to code, you want to pick a decent niche. You can narrow the scope of what you are working on in a few ways. You may want to only make websites for politicians or dog groomers. You may want to only build with Squarespace or Wix. You could even niche down into only working with particular themes and page building plugins for WordPress. The niching down is up to you, but it is important.
The reason niching down is so important, is that you can develop a specialty that you become really good at, and can work within very efficiently. As you continue to improve and develop you can grow your capabilities but, when you are starting out, keep your eyes on the prize. The more you can niche down, the more opportunities will present themselves to you.
Step 3: Build a Portfolio of sites
You are starting a new business. How are you going to show your skills and talents? You are going to build yourself a nice little portfolio of websites that highlight your talents.
First, make your own website. Make it legit. Then make it too legit to quit. You need to make sure that this site as incredible and unique as you can, this is your "digital business card". This is the cover to your book. This is what is going to sell your customers, so you better spend a lot of time on it and make it legit.
Let me be clear, that doesn't mean make a page that looks like it has an entire dictionary on it. It means you need to think about the design, flow, and user interface / user experience (UI/UX) of your site. Most of the time, you want your site to be simple.
On top of that site you just built, build two sites in your niche. If you are going to be making sites for dog groomers, make sure to showcase a couple sites so then your customers can see exactly what they could be getting. Think about how much more likely you are to buy something if you can test it out first. There is a reason why online mattress companies offer a 100 day money back guarantee.
Step 4: Clients
There are a lot of places that you can use to source clients.
Family and Friends
This one is my favorite. Don't hesitate to reach out to friends and family. I bet you know dozens of people that could use your new web design skills. Make sure to reach out and let them know what you are up to.
Make sure to not be annoying. There is definitely a good and bad way to solicit to friends and family. Just look through your Facebook and LinkedIn feeds and you'll know what I am talking about. You don't want to be that person, so use your best judgement.
Local Businesses
Many local businesses want and need a web presence but are usually too busy actually running their business to find a web designer on their own. If you reach out to them, that might be just the spark they needed to get their website built by you.
Most local business are also going to want local SEO and suggestions on how to drive more foot traffic. What a great opportunity to upsell, and have an even better client.
LinkedIn
LinkedIn is a great place to find clients. Everyone on LinkedIn is a professional of some kind or another and most people have something they want to promote online. Whether that is their brand, company, or themselves.
The way to find clients on LinkedIn is by searching within the niche you are working in. Now you want to message individual users, and start your sales pitch. Don't worry, you got this!
Depending on the scale that you are wanting to operate on you could even use the LinkedIn Marketing tool, and blanket your niche all at once.
Meetups
A local event, specially ones focused on small businesses, can be a perfect opportunity to build your network and potential client list. Look out for any meetups put on by your local Chamber of Commerce or associations for small businesses.
Freelancing Sites
Sites like Fiverr, Freelancer, and Upwork can be beneficial to connect a professional like yourself with your future clients. They will take a small cut of your fees, but it is totally worth it to get those deals going. If you develop a relationship with a client, you can always do work for them outside the platform later on.
Step 5: Create a Business Blog
The best way, besides word of mouth, to attract people to your new business and website is by utilizing content marketing. The easiest way to market using content is to start a blog. Blogs are so necessary in this day and age because they fill your website with relevant content that Google and other search engines use to rank the pages of your site so then people can find you!
Quick tip: Make sure to stay on topic with the content of your blog. You are building out a web design business blog, so you shouldn't be writing about your love of disc golf or penguins. You may get a lot of cool people to your blog, but the majority of them will not be potential customers. If you want a hobby blog, that's fine, but don't include it on your business blog.
Research what topics could be of interest to your target client and write about subjects in that target area.
When you are researching for content for your blog, it can be very helpful to create a content strategy and plan what you will be writing for the future. That is what we do for Pineapple Money. It keeps the information available on your site relevant and focused. I would recommend searching the terms "Pillar Content", "Content Silos", and "Hub and Spoke Content" to get a good idea of what I am talking about. Don't go past this step without it, you will regret it!
How to Maximize Earning Potential
There are many ways to make sure that you are maximizing your income from your lucrative new business. Here are just a few ideas:
Offer Extra Services and Bundles
The reason people are going to be hiring you as their web designer isn't just because they want a great new website, they want traffic to their awesome website. They want users to come their site and sign up for their services or become clients for them.
Now that you know that, you can be ready to market to your clients and upsell them with bundles and services that will increase your client's chance of getting more and more web traffic. Look into the following services, and maybe bundle a few of them together that make sense for you:
Social Media Management
Content Creation
Content Strategy
Search Engine Optimization
Graphic Design
Digital Advertising Management
Each and every one of these services make it much easier for potential customers to find your client's webpage, and in turn increase your bottom line. You can also offer discounts to your current clients or promotions for clients that buy more than one of the services that you offer.
Be Professional
In every business you want to be professional. A lot of people make the decision to treat their side hustle as just something they do on the side. That means they put in way less effort than they do at their day job. Your clients don't care that you have another job, a family, etc. They want an efficient, professional, and talented web designer.
Make sure to hit your deadlines, be courteous and respectful, and always make sure your client is happy.
Ongoing Maintenance
Just like a building, websites need ongoing maintenance. This is a great opportunity for you to improve your monthly recurring revenue. You can sign clients up for monthly service plans, and you can get that sweet cash rolling in every month.
These services take time just like everything else, so make sure to price them accordingly. You want it to be worth it for you, and for your clients.
Over Deliver
This is key. Never overpromise. If you are not sure if you can meet that milestone or hit that deadline, don't just hope for the best and claim that you will make it. Best case scenario, you will underpromise and then surprise your client with at the minimum an extra bonus or feature that they weren't expecting.
If you are constantly exceeding your clients' expectations you can be sure that you will be receiving referrals, positive reviews, etc from the majority of your clients. You always go back to the restaurant that gives you extra fries.
FAQ — Make Money Building Websites
We have compiled a few of the most frequently asked questions about how to make money building websites, and these are our answers.
How much money can I make designing websites?
The sky is the limit! Let's just walk through an average month. If you are able to find two new clients and it takes you a month to design and build those two websites (working part-time), you can then expect to make $3,000 a month. This would mean that you would be charging each client $1,500 for a basic three-page website.
How do I get paid?
That is up to you. It is your business and you get to decide. If you are using a freelancing platform like Upwork, you will get paid on their platform, which is mentioned in their Terms of Service.
If you have been finding clients on your own without the helo of a freelancing platform, you could use PayPal or Venmo. They are both very simple to send and receive money. There are other services out there, but you will need to decide what is a good product market fit for your business.
If you use Quickbooks or Freshbooks for your bookkeeping, there are payment and invoicing options built-in that you are able to utilize.
You can also use payment processors like Square or my favorite Stripe. The fees aren't crazy to use them, and they have all the bells and whistles.
How much should I charge to build a website?
This definitely varies, but I wouldn't charge less than $1,500 for a basic three-page site. Honestly, you are going to want to be charging between $2,000 to $2,500 per project. Ultimately, it depends on the complexity and functionality of the website your client wants.
Should I charge a flat rate or an hourly fee?
It is highly advisable to charge a flat rate for each project with your deliverables and responsibilities clearly stated in a contract. You can also charge an hourly rate for any deliverables that go past the discussed requirements in the contract. You could bill upwards of $50 or $60 per hour for any extra work that you do beyond the scope of the original project.
Do I need to learn to code to build websites?
No, you do not need to learn to code to build websites. However, I believe that it will help a lot. I would recommend learning HTML and CSS, because you will be able to customize so much. If you need any help there, don't hesitate to reach out!
Final Thoughts
There are an endless supply of side hustles out there. If you choose Web Design it could be one of the most lucrative and rewarding. There is a shortage of people with skills in this area, and everyday more and more businesses are going online and need these services. That means demand is on a rocket and the rewards are great!
That means skip the crafts and start doing something that can make you real money, real fast!
If you aren't tracking your net worth yet, make sure to check out Empower.